The Monochrome Set reformed in 2011 and I was asked to drum, and I was REALLY excited. But just before touring, I got pregnant! Would I be able to do it? I was also meant to go downhill skiing in the Alps, and I went and took it easy. I felt OK so I decided I honor my drumming commitments. The touring was a couple of radio sessions and plenty of shows lined up in Europe and Japan. I had to keep my news a secret until after the 12-week ultrasound scan. I went to great lengths to make sure no-one saw me NOT drinking: rushing off home after our first show at the London's legendary 100 Club, for example.
In mid-March, I could spill the beans. The band agreed I could do shows I had committed to, and I arranged for a friend of mine to be my maternity cover after June. Glasgow, UK was a great show. What's more, Franz Ferdinand's Alex Kapranos joined us onstage to sing the encore. I'll be able to tell my daughter she's shared the stage with a proper rock star!
We were scheduled to play Tokyo and Osaka, Japan in April, a month after the earthquake and meltdown. How safe would Japan be for my unborn baby? I found conflicting information, but through my day job's Japan office, I was reassured it would be OK. I was jet lagged in Tokyo, so I spent a lot of time resting in my hotel room. The gigs were exciting – audiences cheering, singing along, and pogo-ing! I was tired, but these three shows conditioned me from then on I could play and sing backing vox for the required hour-long set.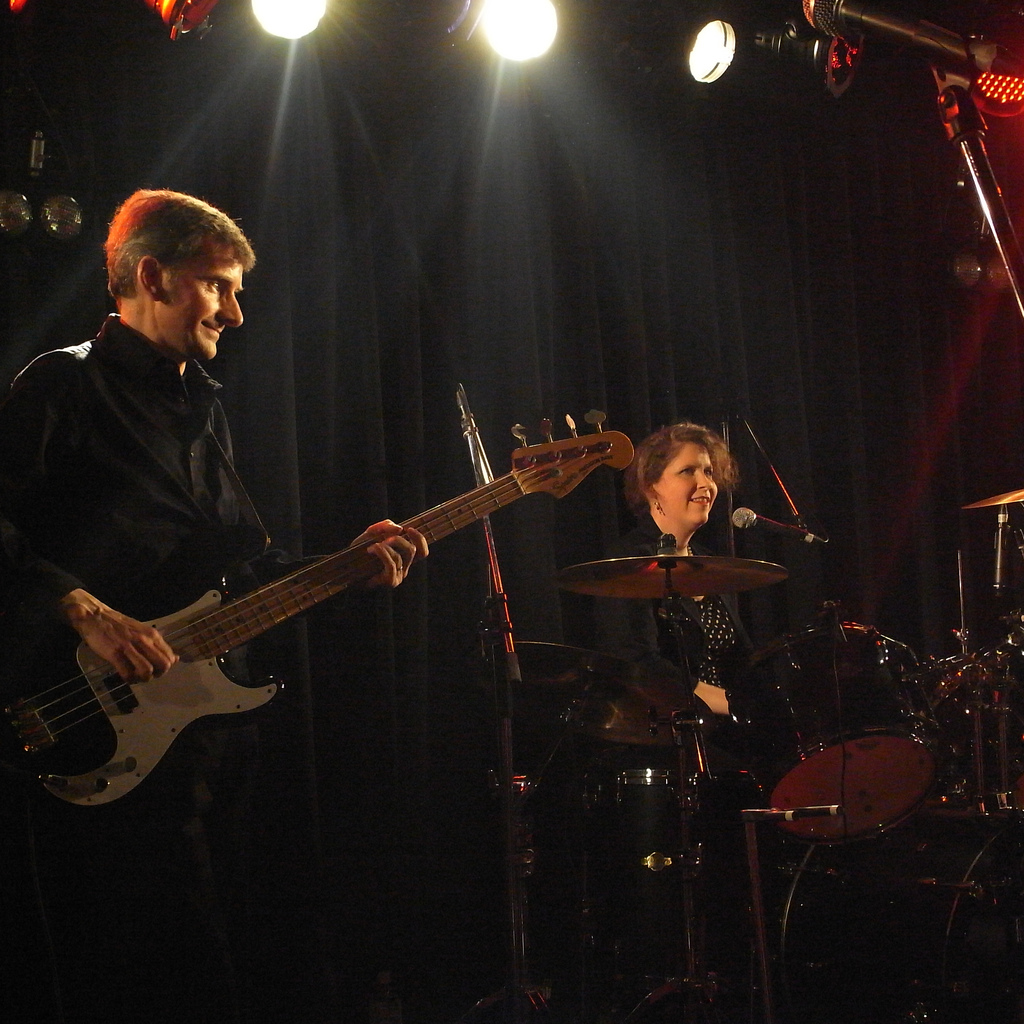 I didn't stay out late with the band – unfortunately, you can still smoke indoors in Japan. I did go to one bar, which I recommend for its nostalgic 70's Rock playlist. I DID get up early to see the famous cherry blossoms on a morning off. Cigarette smoke was a problem in Germany, too. One gig's audience preferred something besides tobacco… Oh no! After an hour, I began to feel light headed! Back at the hotel I stayed up to search for marijuana effect on my pregnancy websites. They said that while you should avoid second-hand smoke, getting caught out once or twice isn't a problem for the baby. Phew!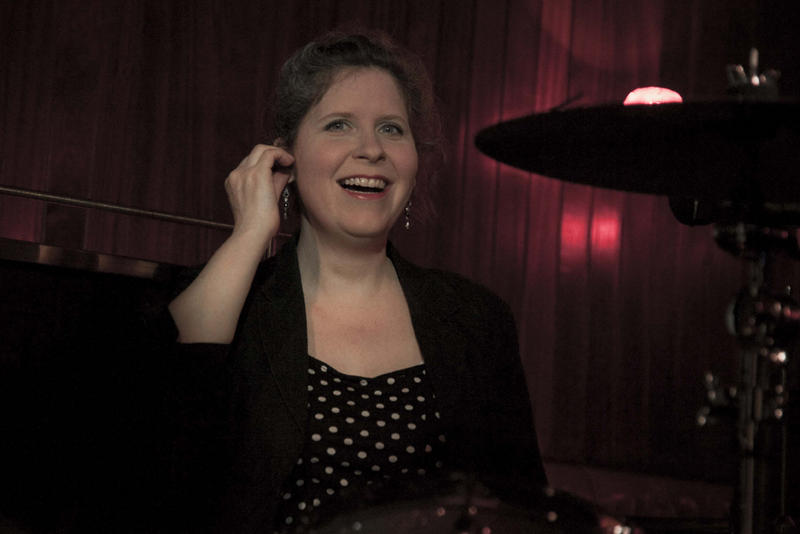 Back in London, I heard the babies heartbeat for the first time. So baby was healthy and drumming wasn't causing problems. More drumming activity included a show in sunny Athens, Greece. But, by the Primavera festival in Barcelona at the end of May, it was challenging. The big festival meant roadies though, a huge help. There's a video where you can see my bump!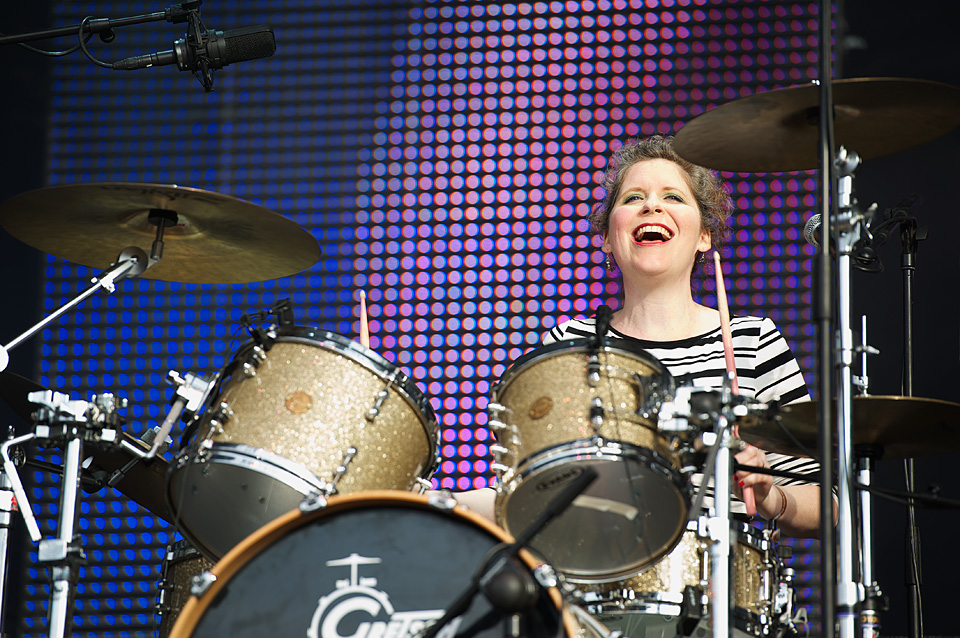 My final show was Bristol, UK. I was sad to put down my sticks, but the timing was perfect. When I tried to carry on at drum lessons, propping myself up on the snare drum and waddling up to the drum school in Camden was too hard.
Now my daughter is here, and I'll see how much I can do. I've pencilled in some album recording sessions with The Monochrome Set and a few gigs next spring. So far I've managed 2 VERY short rehearsals. It was all I could manage between feeds! When my husband brought her to the room at the end of the rehearsal, she seemed to enjoy the loud guitars! I'm starting to get her used to my practicing at home (although time is pretty limited for practice between baby-care duties) – short experiments with putting her in the baby bouncer while I go on my e-drums have been somewhat successful… I hope she will become a drummer too, and carry on the family tradition!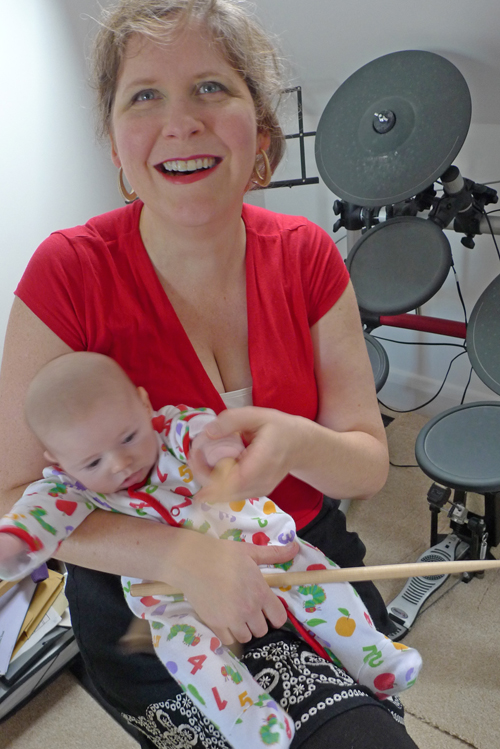 By Jennifer Denitto