Anika Nilles is a German-born drummer, teacher, and composer. She became a viral YouTube sensation in the last few years, and boasts over 23 millions views on her video channel. She writes her own compositions and has toured through Europe, China, and North America. Her style is extraordinarily complex, though she remains in the pocket and never distracts from a song's instrumentation. This year, ProMark revealed a new Anika Nilles signature stick among the collection!
According to D'Addario's Director of Artist Marketing (Percussion), Aaron Vishria, "When we brought Anika into the ProMark family back, we knew we wanted to develop a signature stick with her. Her drumming is so precise, creative and inspirational, and she clearly has a large, devoted global following that we knew would be eager for her sticks. While Anika did like a couple of our existing models quite a bit, she had some great ideas for modifications and design features, most notably a smaller tip and a more drastic taper for a faster, lighter feel and increased articulation. We went through a couple of rounds of designs and prototypes before finding the right blend of specs, and couldn't be happier with the result. We feel like this stick is perfect for those seeking something between a 7A and a 5A, of which there aren't many options, yet is still very versatile and well suited for just about any drumming style."
Anika's stick is based on our standard Rebound 7A, but features a slightly thicker diameter, a more drastic taper, and a smaller tip for increased response and articulation.
Tom Tom caught up with Anika to talk about her new stick, her drumming, and life during COVID.
[Tom Tom] Hi Anika! We're thrilled to speak with you today! How did you make the decision to focus on drums instead of a more traditional job? Did you have any fear in walking away from something dependable?   
[Anika] I always knew that playing drums is my "thing." My parents wanted me to be "safe," by studying something besides music [in school]. After that, I made the move to followed my passion. It feels like drums have been in my life since day one. Sure, there was a time when I was a bit afraid to make the move from my day job to being a full time musician, but I didn't do it in one day; there was a period of 2 years where I made the move to being a full-time drummer.
You offer lessons via Skype; what is the most common thing students want to improve?
They all want to be a better drummer. Besides technical things, there is often the question, "How can I be more creative on drums?"
Do you have any tricks for making practice "fun"—for instance, when drilling rudiments?
I love using simple loops. Nothing too busy, but those which leave space to practice all the chops, rudiments, and grooves along with them. Other than that, I like to loop parts of a song and jam to it to see what comes out. Basically, collecting ideas and throwing in some of my latest combinations.
 How did you settle on TAMA drums and Meinl cymbals to achieve the sound you wanted? 
The move to Meinl Cymbals was super smooth because I was already a super Meinl "fan" for years, and was happy to finally get my hands on their big range of dry cymbals.
For the move to TAMA, I already had a very clear idea of my drum sound. Basically, I was looking for a drumset that offers the most in its natural state without tuning it too much to achieve a specific sound. TAMA was my first choice and it is how I have imagined it.
Some drummers like their cymbals high and their toms low, and others prefer their cymbals low and their toms high and angled. Others will place their kick drums off to the side and angle their bodies toward the snare. How did you find the configuration that works best for your style?
Most of it came by time and with exploring my vocabulary on the drums based on the orchestration I use. I want to reach everything on the kit without reaching out heavily. My kit build up is super tight. Cymbals are low so I can reach everything smoothly. Because of the lower cymbals, I angle them a bit away from me. This way I get better control over them and there is more space to put on some microphones. The tom arrangement came by using a smaller kit during my earlier years. I mostly used 2 toms in the past, so with a bigger kit I just put the smaller tom in between simply because it feels good this way.  
After your YouTube release of "Alter Ego," everything seemed to change for you. Suddenly, you became an online sensation and your drumming became well known among musicians and non-musicians alike. in part because of your technique and distinct sound. Why do you think "Alter Ego" was the one to go viral?
Viewing it from today, I guess it was the perfect time. There weren't many well produced drum videos out the time, in both audio and video production. If so, they were mostly drum covers. I think it came down to it being my own composition, plus the production, the right time, and probably that little exotic factor being a female on the drums. It all came together very well at the time. It's definitely harder as a young musician to get recognized on social media. For me, it was a big springboard to an international career and helped get jobs "in real life." But I wouldn't call myself a YouTuber, since I just release 2-3 videos a year. Even bands release more videos then I do. Haha.
 Do you feel any pressure to maintain your web presence for your fans via YouTube or Instagram?
Since everything goes faster on social media and videos get recognized for only about 10 seconds, yes, there is a pressure sometimes. At the same time, it takes a lot of energy and focus out of what really counts. My rule is, don't post anything if there is nothing interesting to post! That took a lot of pressure off my shoulders. That's basically my mindset.
Has being a woman ever impacted the way you've been treated in the music business?
Honestly, not really. For sure there have been those views you get as a female musician mostly because people are surprised to see a female on the drums. And for sure there have been people trying to check if "the chick" can really play. But other then that I was in a lucky position to play with people around me who have been very keen, openminded, and super supportive. My parents are that way, as well. I know not every girl is in this position and has fight for her dream, but it is worth each "stroke"!
In addition to releasing lessons online, you also offer drum clinics around the world; we hope you will teach in the U.S. soon! How are your clinics different from lessons?
Oh yes! I would love to come back to the States! For sure, lessons are different to clinics. Lessons are mostly face to face. Students let me know their level and topics they want to work on and we work on an individual level. A clinic situation is more a mix of performance, answering questions, and teaching a specific topic.
Your Drumeo quintuplets lesson is really challenging and enjoyable; why did you pick this specific exercise to teach?
The quintuplets really caught me some years back. I explored those a lot and we simply decided to bring my knowledge on this topic to Drumeo since there wasn't much educational material on the topic at the time.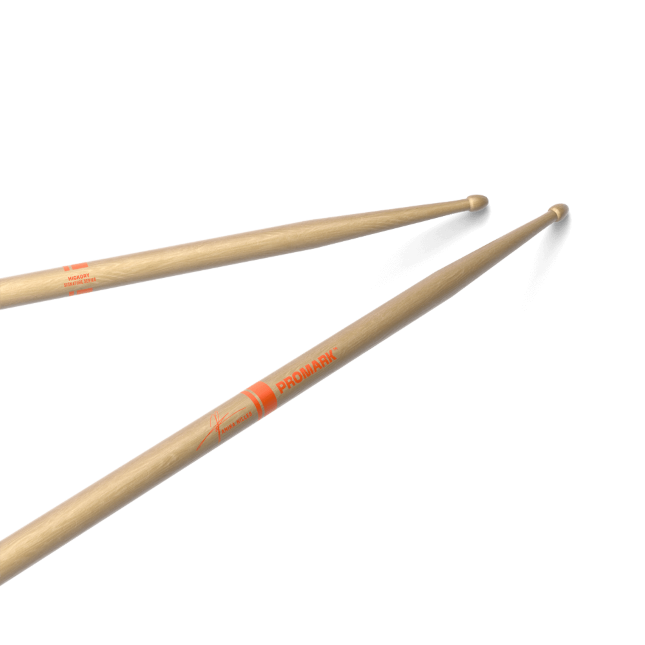 What attracted you to subdivisions and different time signatures—two things you've become known for?
It all started with those quintuplet grooves. Those have brought me into odd meters in general and made me moving into bigger ranges of fives. From there checking out subdivisions in 7 has been kind of a natural step. I basically found a lot of fun exploring it and figuring out how to use it in music.
You're also a composer. Do you have every instrument in mind when you're creating a drum part for a song, or do you collaborate with other musicians and let them experiment with the melody?
I guess when you compose, it is just natural to have all instruments in mind – it comes with the process while writing. At least that's how it works for me. The idea of each instrument and its sounds are a part of the style and vibe of the song. Still, I want to have fresh ideas for each musician in it. I basically create a layout and let them know they can do their thing on it.
How has COVID affected your music this past year? Did you get to enjoy being "off"?
At first, no, I was just shocked and figured I'd be off for a couple of weeks, but then, yes. I enjoyed being around family and friends and getting things done I probably hadn't had the time for. Actually, I feel very refreshed at the moment.
Congratulations on your new drumstick with ProMark! Tell us about the process of creating a signature stick. Why now?
Yeah, the new Signature Sticks! I was super looking forward to its release! We have worked on the stick for a year and a half or so. It takes time to get the details done, especially when you're not around the corner. The folks from ProMark sent a couple of samples, I checked them out, and then gave feedback. That happened a couple of times. Before we started the process, I had the chance to research many different stick models for myself. I considered the character of each and what one could benefit from each feature. In the end, I had a clear idea about what I wanted to achieve from a stick, and just forwarded those ideas to the team. The release date was in cooperation with ProMark.
What do you look for in a grip? Were there any specifications you wanted to make sure went into the stick?
First of all, the stick needs to have a specific thickness to feel good in the hands. Next, the stick has to have good balance between forward and rebound. The tip is super important: finding the right tip for your playing makes such a difference. It's amazing how easy things suddenly can work out just by finding the perfect tip.
You are known for using Evans drumheads and ProMark sticks exclusively. What kind of sound do you look for when choosing heads?
Over the years, I have learned how versatile a drum sound can come out just through the drumheads. Even a super low end drumset can sound amazing by using great heads.
With drumheads, it's actually about what kind of sound you want to get. For example, in recording situations, I switch heads depending on the style of music. Often, I will use heads that have a more open tone while choosing a more dry sound for live performances. My personal taste is definitely a more dry sound, since my playing style benefits from it. Mostly, I use G2 or UV2 heads as my regular drumhead set up.
Thank you for your time!
Interview by Tom Tom's Angela Dane
Get your pair of sticks here