"Tacoma, Washington, 1988: A town where hazardous waste and pulp mill fumes smelled like a breath of fresh air, old buildings were being leveled in order to "revitalize" a dying downtown, forests and farmlands were giving way to industrial parks and shopping malls, a cultural event was wrestling at the Tacoma Dome, and Girl Trouble could be found practicing with their plywood speaker cabinets and a drum set purchased for $70 from the Sears surplus store in a shed beside Bon and Kahuna's parent's house, where they still practice today.
"The reissue of Girl Trouble's debut album, Hit It Or Quit It! [KLP229], includes eleven original songs, one Northwest classic ("Steppin' Out" by Paul Revere & The Raiders), and two bonus tracks, "White Lightnin'" and "Shakin' all Over". To keep the energy level up and the over-production level down, these songs were recorded "live" with only an occasional added guitar or vocal track, with Steve Fisk at Velvatone Studio in Ellensburg, Washington (the same studio that gave the world Beat Happening albums Jamboree and Black Candy). With the minimal pounding of Bon's drums, the steady cool of Dale on bass, the buzzsaw scream from Kahuna's Ouija guitar, and the rabid rock 'n' roll stylings of K.P. Kendall, Girl Trouble continues playing throughout the Northwest, 30-plus years on. So that's the story, kids. Use it or lose it. It's my way or the highway. Eat it or wear it. Hit It or Quit It!"
---
The only way [rock] can continue is for kids to be fed up with what's going on in their lives and put that frustration/passion to music.
---
[Tom Tom] Can you tell us a bit about yourself, your background, and how you became interested in music?
[BVW] I was born in Tacoma.  My dad was a WWII vet who married my mom and settled in the house he grew up in.  I've got a sister a couple years younger than me and then my brother came along 11 years later.  My formative years were pretty typical for kids in the Pacific Northwest in the early 60s.  I was a Brownie, I watched JP Patches and Brakeman Bill, I'd rather be playing outside in our yard full of massive fir trees than going to school.  I was seriously interested in drawing and painting at an early age.  

Music was always in our house.  Our mom, who we call The Babe, always listened to the Seattle radio station KJR which featured pop tunes and rock and roll.  The Babe loved Elvis, and I liked all the rhythm and blues KJR would play.  In 1964 my life dramatically changed when we first heard the Beatles and when my brother Bill (aka guitar player Kahuna) was born (on the day the Beatles played on Ed Sullivan).  From that time on, besides art, music was my huge passion.  I would collect all the teen/rock magazines, watch any television shows featuring bands, and I used my allowance and money from my generous grandmother to buy records.  Besides the Beatles, I loved all the British Invasion bands (Yardbirds, Rolling Stones, Kinks), the American garage bands (Shadows of Knight, Music Machine),  R & B acts (James Brown, Wilson Picket) and especially the bands in the Pacific Northwest (Sonics, Wailers, Tiny Tony and the Statics, Jimmy Hanna and the Dynamics, etc).  I was just a bit too young to go those huge teen dances, but I knew all the acts through KJR and the events KJR deejay Pat O'Day would put on.  

It was a little later, during the hippie days, when I started going to all the shows I could afford.  There were tons of shows at the local colleges in Tacoma (Canned Heat, Buddy Miles Express, BB King, Ike and Tina Turner, Steve Miller Band, etc) and once in awhile I'd have to venture to the big city of Seattle to see shows like Jimi Hendrix or The Who.  It was also popular to have local shows either outdoors or at the old Crescent Ballroom.  Of course, besides loving the music, by that time I was involved in the teenage social scene of Tacoma, hanging out at Point Defiance, meeting each other, checking out long haired boys.
Who are your influences?
All those bands I listened to was a huge influence.  I've always been drawn to music with a beat so the rhythm and blues acts (which also included many of the British Invasion and Northwest bands) was what I wanted to listen to.  But when I think of what influenced me, I can't just credit music alone.  I loved anything to do with pop-culture, lots of television, movies and anything that seemed slightly off-center.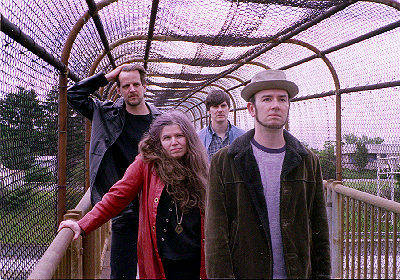 When did you join Girl Trouble? What role has it played in your life?
I didn't join Girl Trouble as much as I started it with my brother Bill and his school friend, Dale Phillips in 1983/84.  During the time Bill was growing up, he started listening to my old rock and roll albums.  He liked the music as much as I had.  I still loved those bands but by that time things had changed.  Those old garage bands had mostly broken up.  It seemed to me that the real rock and roll had taken a back seat to disco and huge arena events.  I felt sad that Bill would never know the excitement of going to small clubs and seeing raw live bands like I had.
Then came the Ramones.  The movie Rock and Roll High School came out and everything changed again, for the better.  Bill started to bring home all these albums that I would borrow from him, The Ramones, The B-52s, The Sex Pistols, The Pretenders, etc.  Music was suddenly exciting again and anybody could join in.  Punk rock took over Bill's life and it was great to see all these kids who were into the same thing.  Even though I was older, they didn't mind me tagging along to all the shows.  We went to the Showbox in Seattle to see The Ramones, DEVO, X, Gang of Four, 999, Plasmatics, etc.  

By this time I knew all the punk rock kids from Tacoma.  Kurt Kendall (future GT singer) was one of them.  He had his own car, which made him the kingpin of the punk scene.  But besides that he was always the life of all the parties, a natural born MC.  Bill had started playing guitar in high school and the punk rockers were always trying to form bands.  There were plenty of guitars but nobody ever seemed to have a drum set.  So I bought one from the Sears surplus store and set it up in the shed beside our folks' house (where Girl Trouble still practices to this day).  Bill would practice his guitar and I would tap out a beat on my tiny new drum set.  We got to the point where we thought we could add someone else to the practice so Bill called his old school pal Dale, who had been playing bass for a bit.  The three of us would get together and try to play our favorite songs.  By this time we were listening to The Cramps and the Gun Club.  Bill was doing the singing but as we progressed it seemed like it would work better if we got a singer, and of course Kurt Kendall came to mind.  It took us awhile to convince him to join us, but eventually we talked him into it.  

From that moment on, it's pretty much been the main focus for all of us.  It takes a lot of self-discipline to keep at it.  There is always a lot of time invested in any band, playing shows, recording, touring.  For us, Girl Trouble is a family.
Many been personally influenced and inspired by your visibility as a drummer in the punk/garage rock scene. Does your gender affect your experience in the band or on tour? Have you had to fight any stigmas in this particular scene/genre?
I think I've been in a unique position because I was always older than everybody else.  That put me in a different category than probably some of the other female musicians playing at the same time.  In other words, nobody thought of me (or at least not at that point) as "datable".  Cute girls in a band can sometimes bring extra tensions.  I didn't have that problem.  In the band it was me and my "three brothers" (one of them being my real brother).  I'd been going to all those shows, and those other musicians already had seen me around and treated me as an equal.  I never felt any type of gender discrimination.. In fact probably some of those guys were scared of me because they couldn't figure out what an old broad was doing playing drums in a band.  

On tour, it's a little different.  Touring is hell.  Of course there are plenty of fantastic opportunities to meet amazing people, see sights you'd never normally see, play in other cities.  But after two weeks of having your insides shaken to pieces from hours of riding in a loud cramped van, eating pizza or fast food for the 14th day in a row, not getting enough sleep, being lost in some city you've never been in, loading equipment in and out of clubs with no parking…and having your period on top of it…well, that can get to you.  We always say that anybody who's ever been on tour will know exactly how it feels and for anybody else, it's almost impossible to explain.  So that's where I think being female, for me anyway, made it tougher than on the guys.  They'll tell you I cried all the way through our first tour and that's probably closer to the truth than I'd like to admit.  In my defense there weren't a lot of women my age bouncing around in a van for a month.  Later I learned how to "not give a damn" so much and that attitude will get you through touring better than anything.  Once you are out there, you have no control over what happens.
Does the Pacific Northwest inform your music at all: its landscape, its social atmosphere, or its history?
I think it affects everything we do.  It's just like the grunge scene.  Even though we did not play that style of music, all those bands were friends of ours.  We played with them, we hung out with them at shows, we partied with them.  And I believe that style of music had to be formed in the Pacific Northwest.  The same thing happened with all those NW bands from the 60s.  There's just something about the way we do things here.  If nothing is happening, we make it happen.  We have a do-it-yourself ethic that I don't think happens in every region.  It probably has something to do with all those drizzly days when we couldn't go outside and play.
In general, punk and rock music have always been somewhat synonymous with messages of anti-establishment. Do you think this is still important in music today?
It's vital.  It's what rock and roll was built on and the only way it can continue.  The only way it can continue is for kids to be fed up with what's going on in their lives and put that frustration/passion to music.  In my opinion all the new music comes from young people.  Every genre that I can think of starts with youth.  The older bands still make great music but the real excitement (angst, joy, passion) comes from new bands, the ones who are just picking up instruments for the first time and getting together with their friends to play.  That's why Girl Trouble always tries to support the new bands coming up.  They are the ones keeping rock and roll alive.
On the personal side I have been involved in trying to warn new bands about the practice of what is called "pay-to-play".  This concerns promoters/clubs who convince bands they should turn in money (sell tickets) to play their shows.  Out-of-town promoters will spam email bands to offer them a showcase or participate in a "battle of the bands".  They rent the club and then get the bands to sell tickets and turn in all the money to them.  Established bands won't fall for this rip-off so the target is new, inexperienced bands.  When I found that there was not much information on this topic I decided to get my own website and start writing about it.  I even had to defend myself against a SLAPP lawsuit from one of the companies I wrote about.  I won.
What motivates or inspires you as a musician?
Everything.  Being inspired can come from anywhere, even movies, personal experiences, whatever I'm dealing with.  Even though we play garage music, we listen to many different types of music.  I love new R & B and hip-hop, Latin music, old country-western, Frank Sinatra, bagpipes.  I can hear something that's brand new one minute and something recorded in 1920 the next and both are equally inspiring.  My boyfriend is a record collector who is constantly turning me on to some crazy thing he picked up. Live performances are also very inspirational.  I like the energy that new bands have so I try to see new bands.  I just like seeing how an audience reacts to a performer.  Kurt and I saw the Korean hip-hop band Epik High a few months ago and that was totally inspiring.  It can come from anywhere.
Girl Trouble is celebrating 30 years in the industry. Congratulations! Do you have any advice for aspiring musicians?
Thanks.  There aren't many bands who have been doing this consistently with the same 4 people for as long as we have.  We are proud of that.  Other than staying away from pay-to-play shows, my best advice for aspiring musicians is to find friends to play with.  Sticking together and having fun is more important than how many gigs you can get at first.  You can't form for the wrong reason.  If you are forming a band to "make it big" you'll get frustrated and probably break up.  It doesn't work like that.  This is a marathon, not a sprint.  Just have fun learning to play instruments together and everything else will come along in time.  And if it doesn't at least you had fun.  Even though we didn't get the fame and fortune, we have had some amazing experiences, and that is possible for any band.
Let's talk about your well-known and classic album, Hit It or Quit It. What went into the creation of that album? Did you expect it to be so well received? 


We had put out a couple of 45s on K Records.  Our friend, Calvin Johnson, who ran K, thought it would be a good idea to record a full length album with Steve Fisk who had a studio in Ellensburg.  Calvin's band, Beat Happening, had recorded there and Steve also recorded the Screaming Trees (who lived in Ellensburg at the time).  We brought our secret weapon, Tim Olsen (my and Bill's brother-in-law), who we always leaned on whenever we needed technical help.  Tim and Calvin recorded those first singles.  So, along with Tim and Calvin, we went to Ellensburg to record with Steve Fisk.  I think we recorded 20 songs over the weekend and then came back another weekend to pick out the best takes and mix them.  We were pretty green as far as being in a real studio.  It takes time to learn how to get loose and comfortable enough to make good recordings.
As far as the label, Calvin thought that we could co-release our first album with Sub Pop.  We'd been friends with Bruce Pavitt for a few years before that so we through that was a good idea.  Calvin thought that Sub Pop could help promote it in a different way.  So the US release was K/SubPop and the European release was K/Next Big Thing (a magazine and label owned by Lindsay Hutton in Scotland).  

While we got some good reviews in Melody Maker and Spin magazine, which was very thrilling for us, I never felt like it was that well-received until 25 years later. During the time Hit It or Quit It came out, the big grunge explosion happened and we didn't exactly fit into that genre.  That's why we left Sub Pop after the one album. They had bigger fish to fry and there was no time to promote a garage band.  The fact that Calvin wanted to have a 25th re-release on K in 2014 helped to get it out to people again.  I think that helped it to be more well-received, especially since there are a lot of garage bands out there now but there weren't as many in the early 80s.
Are you working on any side projects?
Our only side-project is getting out the DVD of the documentary that Isaac Olsen (our nephew) made about us.  Girl Trouble is more like a family and so Isaac, who was born a couple of years after we started, decided we would be a good subject for a film project.  It's called "Strictly Sacred" and it was shown at some festivals like SIFF and the Olympia Film Festival.  Even though it's all Isaac's film, we spent many months digging through our boxes of old videos, photos and posters to come up with everything he needed.  We think he did a great job and he's gotten some really good reviews for it.
---
---