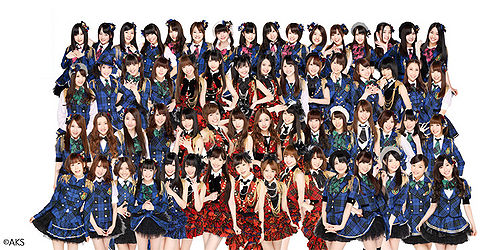 On January 31st, Japanese tabloid Shukan Bunshun published photos of Japanese pop star, Minami Minegishi, leaving the house of boy band member Alan Shirahama. That same day Minegishi uploaded a tearful video of herself, with a freshly shaven head, apologizing to her fans for her actions. Her night at Shirahama's place was a breach of her contract with girl band AKB48, which explicitly forbids members from dating.
20-year-old Minegishi was punished by her agency when caught having a boyfriend. Minegishi, who has been with AKB48 since she was thirteen, was demoted to the training ranks. Minegishi was ranked as the 14th most popular member among fans last year. Once one of AKB48's leading members, Minegishi shaved off all her hair in a traditional Japanese form of regret and apologized to all her fans. Shirahama has released an apology for his scandal with Minegishi, but has not yet received any punishment or demotion from his agency.
"I don't expect to be forgiven by doing this, but my first thought was that I don't want to quit AKB48," said Minegishi in her apology video.
AKB48 is arguably Japan's most popular music group. The group is comprised of 4 teams (Team A, Team K, Team B, and the trainee team) and is collectively made up of 88 members. In the past two years, AKB48 has managed to solely occupy the top 5 spots of Japan's equivalent of the Billboard charts, the Oricon charts, for the past two years. AKB48 also has it's own TV show, cartoon, and video game.
While AKB48 has managed ubiquity in Japan, the group holds quite a narrow market. Besides children and teens, the group's fan base is mainly comprised of otaku. Otaku is a term commonly used in Japan to describe those who are obsessed with anime and manga (Japanese cartoons and comics, respectively), and tend to be older men. While a small market, the otaku is a powerful one. Most otaku are willing to spend large sums of money to feed their obsessions with the pop group.
It is no surprise that otaku find interest with the girls of AKB48, as these girls are marketed with them in mind. The girls as sexualized much like the female characters often found in manga and anime. Music videos feature the teenage girls in lingerie, anime-like costumes, and school uniforms (playing up the school girl fetish). Fans can even purchase photobooks that feature group members in bikinis. The context of many of the group's songs seems inappropriate for the members to be singing. Some such as "Seifuku Ga Jama Wo Suru", which means "My School Uniform's Getting in the Way," features lyrics that roughly translate to "Take off my uniform// I want to play around more naughtily// You can do whatever you like// I want to experience adult pleasure."
What is most important for AKB48 to maintain is the illusion of attainability of these girls for the fans. AKB48 has often been regarded as "idols you can meet," by its producer Yasushi Akimoto. The group holds events such as meet ups where fans can talk to the girls and daily performances at their theater in Akihabara, an area in Tokyo the group is named for, where one team performs daily. AKB48 even has a dating simulation game where gamers can go on virtual "dates" with group members.  This is where the no-dating rule is most important. By keeping the girls from having real-life relationships, it allows the older otaku fans to maintain their fantasies of being with the girls.
Essentially, the girls of AKB48 are only allowed to be objects of intangible sexual desires and fantasies, and they themselves cannot pursue their own healthy relationships. It all boils down to keeping the members single in order to keep the girls profitable.
Read the BBC's coverage and watch her apology video here.
Read Jezebel's account here.
Maggie Rivers for Tom Tom Magazine