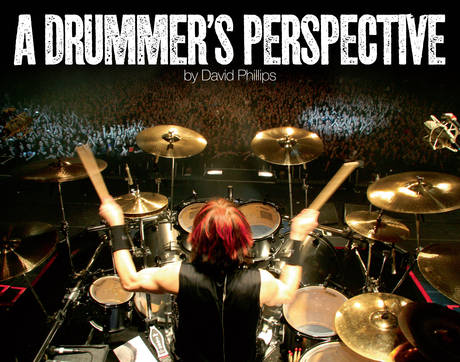 This project of photographer David Phillips came out of many years of following bands for his career. Phillips wasn't covering small time gigs either, we're talking major acts, Dave Grohl, Graham Broad, Cindy Blackman, Cora Coleman, Cherisse Osei, and many MANY more. Through this catalog of photos and interviews one can really get a sense of what it is to be a drummer and to play for thousands of people. We could only hope for such a perspective in real life, so this book serves as a nice model for what could be in your wildest dreams. The following is what the author had to say on his book.
Tom Tom Magazine: What inspired you to put together this collection of photos?
David Phillips: I have been taking photographs of drummers for several years through my role as Artist Relations for Drum Workshop. My photos have also been published in many magazines worldwide and I thought as I have so many photos it would be a good idea to publish the best ones in a nice quality hardback book and share them with other drummers. See some of the photos here
Order the book here
Tom Tom Magazine: How long did it take you to compile these photos?
David Phillips: I really started taking photos professionally from 2006 and have been working ever since then to build a collection that I felt was good enough to share with the world.
TTM: What inspired you most to create a book like this?
DP: It was when I showed Scott Travis of Judas Priest my photos of him and he said to me they were the best photos of him he'd seen. I thought to myself that Judas Priest must have been photographed by many of the world's best photographers so to have him describe my photos in that way inspired me to really do more. Scott is featured on the front cover of the book.
TTM:Got any incredible stories you want to share behind any or one of these photos?
DP:Lots!!
1. Will Hunt: Evanescence ( Download festival – see enclosed pic )
I think we all dream of playing a huge festival and wonder what it's like to look out onto 70,000 people. Well, I didn't get the chance to play, but Will did invite me to sit behind him when he played Download festival and this view really is the best seat in the house.
2. It was a real honour to meet and photograph Mitch Mitchell, especially as he very sadly died four months later. I think I was probably the last person to photograph him before he died.
3. Roger Taylor ( Queen – see enclosed )
I was so privileged to meet and photograph Roger Taylor, after which I watched the show from the stage left. To see the band play 'We Are The Champions' as their finale and watch the whole audience swaying their arms to the song was just incredible and it was one of the most memorable experiences of any concert I have ever been to.
4. Silly story !!!!
Chris Cano with Orson at Milton Keynes Bowl: The backstage pass I had be given had written on it AAA, which normally means Access All Areas, except this pass had written on it AAAA. I asked what this meant and they said ' Absolutely Access All Areas' !!!
TTM: Got any future plans for other books?
DP: Yes, I have photographed so many famous bands, that I would love to do a book on singers, bassists, guitar players…. The real trick is to get the permission to use the photographs. All the drummers have been so cool about this, but I suspect I will have a harder time with Singers and Guitarists!!!