There is a two member band from Miami called The State Of that I had the pleasure of seeing this past weekend at a small intimate venue at Moonchine Asian Bistro in Miami. Meeting vocalist/pianist/guitarist Steph Taylor and vocalist/percussionist Nabedi Osorio was a delight and I'm happy to say that soon we will be posting an exclusive Tom Tom Magazine interview.
Steph's voice is melodic and there is passion in her delivery. Her keyboard style is smooth, but can also get quite percussive giving it an edgy sound. Additionally, there is nothing kitsch or Poppy about her lyrics, they are, in fact, smart and it was a treat to listen in. On stage they have a great camaraderie and it is evident they are comfortable with each other's style and hence, complement each other.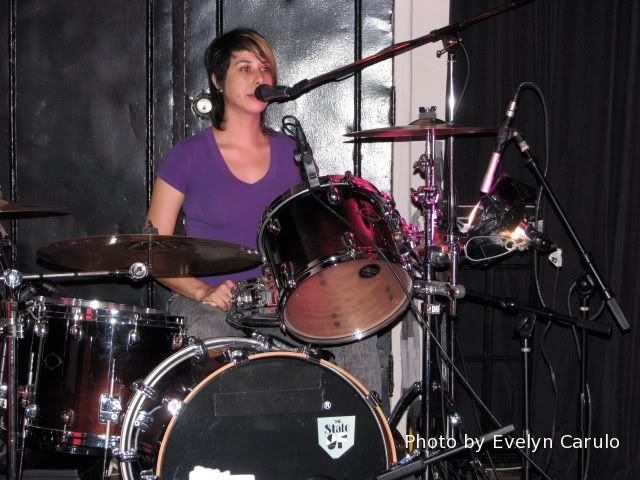 They played for about an hour, and in that time, offered a nice variety of their original songs including their own special twist on Happy Birthday Miami style. This was very well received as at least five people from the small and loyal crowd were celebrating that evening. Peppered within their set where some fun covers, including The Eurythmics, The Bangles, Madonna, and one especially close to my heart, The Postal Service's Such Great Heights.
Nabedi, born and raised in Miami, has been drumming since her early teens and her techniques are vast and quite polished. Her musical skills are eclectic including the melodica, triangle, tambourine, banging with a maraca, as well as vocalizing. Don't let the fact that this is a two member band fool you. There is big sound coming from them, and it's all live, nothing looped or sampled.
Be sure to check out their new CD Day of Abandon there is information on their website on how to purchase, and their will also be a CD release party at the Awarehouse in Miami Saturday September 19th, 2009.
I will focus more on Nabedi's style in the upcoming exclusive interview. For now I leave you with one of my favorite pieces from The State Of, Anything for you. Enjoy.
Alex Carulo
[youtube=http://www.youtube.com/watch?v=WFht-A4AXUg&hl=en&fs=1&]