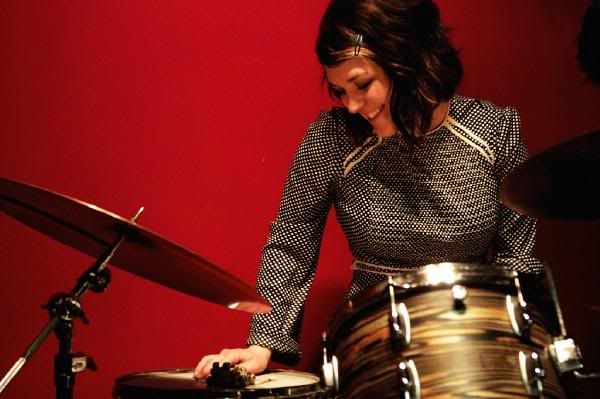 In a yellow Victorian house hidden under Sacramento's canopy of trees, best friends Natalie Gordon (guitar, vocals) and Lauren Hess (drums, percussion) have made more than one catchy number for their band, Agent Ribbons.
Combining Baroque pop, '60s love ballads and riot grrrl ideals, Agent Ribbons presents empowering pieces that are both dreamy and deliciously sinful. While Natalie coos and screeches through their toe-tapping pop songs, drummer Lauren Hess adds the perfect amount of drool-worthy rhythm and clanky beats – always with a huge smile on her face.
Recently back from Barcelona's Primavera Sound Festival and currently on a national tour with Camera Obscura, Agent Ribbons has come a long way since jamming in their Sacramento dollhouse.
Sweet and inspiring, Lauren, 27, took some time out to chat with Tom Tom Mag about accentual drumming, "the Meg White effect" and her first drum set ("Shitty Shitty Bang Bang") via e-mail:
Tell me a little bit about your drumming history. Didn't you start out playing guitar in a different band? Why did you decide to pick up the drums?
Yes, I started out playing guitar when I was 12 and played guitar and bass in a few bands before Agent Ribbons. I bought a drum set from my high school band-mate Jennifer around 2000 and only played it occasionally because of space constraints. It was nicknamed "Shitty Shitty Bang Bang" and I still have a few of the pieces in my parents' garage. I had them set up in my living room when Natalie came over and noticed the set. She asked me if I played them and I told her I most certainly did, even though I barely played at that time. But, in typical Lauren fashion, I just jumped right in without over-thinking the scenario and began playing that week!
What do you love best about the drums?
To me, drums are heavy and calculated, which are two very appealing sensibilities. I love the deep resonance drums provide as a musical instrument. The tiny bit of OCD I have is math and pattern-related, so drums fit right in with that!
You have the cutest drum set, by the way. Explain your "kit aesthetic." (What kind of kit do you use, etc.)
Thank you! The kit is a vintage Ludwig, I don't know much more technical info than that! The snare is a borrowed metal one because I somehow lost my other nice piccolo snare in San Francisco. The pattern on the drums reminds me of the Tiger Eye stone, all brown and gold swirl. On the kick drum, Natalie and I glued a piece of light blue lace on the front, which is now ripping and looks pretty haggard!
What do you find most challenging about the drums?
For me, it's the fact that I am not as comfortable with drums as I am with guitar. I don't allow myself enough time to practice either, so I always feel under-prepared. The first two years I played in Agent Ribbons, I was scared to death every show! Looking at pictures from the first year, I always have this deeply concentrating intense face because I felt that if I messed up, I didn't have enough experience to recover from a rhythmic mistake. I still feel that way to some extent, especially now that I am singing at the set, but it's getting better….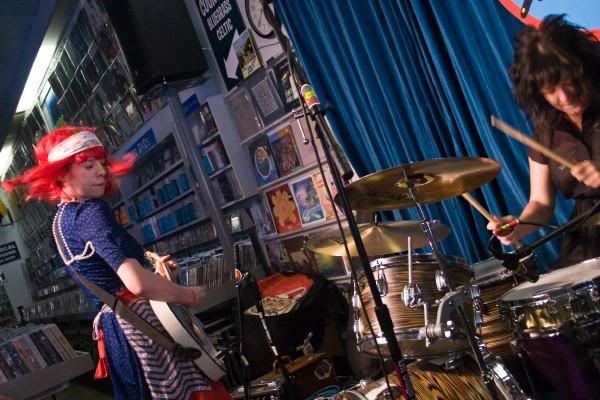 I love how you often add little tinkers here and there on the drums during songs. Instead of always having a straightforward constant rhythm, you add little touches and changes that really decorate Natalie's vocals. What sound are you usually going for when creating the rhythm section?
When writing a drum part, I hear every drum very melodically. I think one of my strengths is not knowing how to "correctly" play drums. It allows me to think outside of straight-up drumbeats. Also, with our songs, there are very dramatic high and low moments that benefit from accenting rather than plowing through with a steady beat.
Going from a two-piece to a three-piece with new cellist/violinist Naomi Cherie, have you noticed any changes in your drumming and percussion? Has it opened any new doors for you?
Not really, at least not yet. I think all around we are more elaborate and I do feel more comfortable having another person to play off of on stage.
Do you ever experience any sexism on-stage from audience members? If so, how do you deal with it? (These days I'm sure we don't experience it as much as the pioneers before us. Now, we have to deal with what I call the "Meg White effect," where people instantly want to compare female drummers to Meg White even if you have a completely different style/sound. I always want to tell them "Oh you mean because we both have vaginas and happen to play drums?")
Haha, oh yes the Meg White thing happens all the time. I also kind of look like her, so I get the physical comparison as well. It's pretty sad that most people can't even name three female drummers. They have no idea about the amazingness of Janet Weiss from Sleater-Kinney, Dee Plakas from L7, or Hannah Billie from The Gossip, just to name a few. I mean, I guess most female drummers aren't in mainstream bands so people who are unaware of independent music make lazy comparisons. I pretty much only listen to female-centric music, so I know and love 'em all 🙂 I don't experience sexism as much as when I was in high school (probably was an age thing as well) but I do get the "good for a girl" thing occasionally.
You've toured a lot as a band – do you see differences between how Europeans react to female drummers/musicians than how American audiences react? Or, any differences in various parts of the U.S. even?
I feel that it is pretty even. We are lucky because we tend to play with likeminded creative and supportive bands and the audience tends to be that way as well. The few times we've played outside our element, it has been dudes hitting on us more than wanting to chat about records.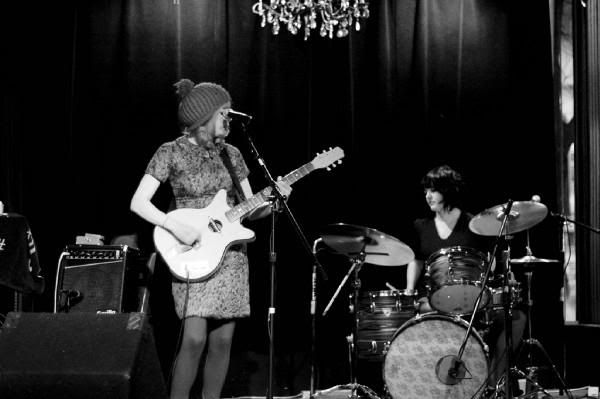 I see you'll be recording in July. How would you describe the new material you've been planning?
Our new material is a bit darker and more elaborate than the last album, more dramatic. I sing harmonies on most of the new songs, which is a challenge, especially live. I've added some parts with bells and tambourine. I'm also going to be playing other instruments on the album like autoharp, xylophone, possibly guitar or whatever else to thicken up some parts. It's going to be a departure from the minimalism of the first album.
Who/what are your drumming inspirations?
I absolutely love Christina Files' drumming with Mary Timony. I think it perfectly accents the songs in an interesting way. Also, Shannon from Bride of No No is an amazing experimental free-jazz type drummer. I'm also inspired by '60s garage-rock drumming and Krautrock-style beats.
After this tour, what's next for Agent Ribbons?
Well, we are home for a couple of weeks and then we go record in LA the first two weeks in July. Then, we play a handful of shows before going on a west coast tour with our friends Sister Crayon.
What advice do you have for a girl starting out on the drums, or a new female drummer who wants to start a band?
Do it!!!! Just do it, don't worry about "sucking" or not being able to play everything right away, or playing like a boy. Listen to the above-mentioned drummers and you will be inspired. Watch Born in Flames and Radical Harmonies for further inspiration. Watch Satisfaction from the '80s for a hilarious depiction of a girl drummer (and Julia Roberts as a "bassist"). Drums + women = power.
[youtube=http://www.youtube.com/watch?v=IzBI4vxiYwE&hl=en&fs=1]
More on Lauren Hess and Agent Ribbons:
www.myspace.com/agentribbons
Melanie B. Glover